13 Jun


Version Fr.
A good use of style sheet.


I often print an article to keep a copy. I use most of the time a "see before printing" to select the pages I want to print. But I've remarked that 50% of the printing area is employed with publicities or menus.
When we create the design of a site we foresee an area for menus, for publicity and sometimes others specific areas to boost the look and the ergonomic of the site.
These areas useful for the navigation become a pain for the printing of the article. However it is very simple to handle this problem if you use the style papers.CSS.
In an ecological wish (it's tendance) but also to have a "cleaner" printed text, I am going to explain you how to adapt your WP theme to print correctly.
(more…)
22 Nov


Version Fr.
News – Updates
6 december 2007 : Some corrections (bugs and, display problem), widgets modification to add open/close option. Add bottom sidebar.
Chose a theme…
After having tested some blog's engines (dotclear, drupal, joomla, ..), I chosed WordPress. This choise done I needed to configurate it and chose a theme and plugins.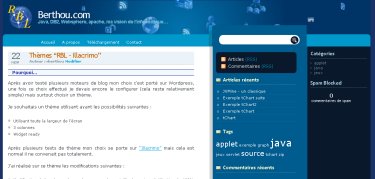 I wanted a theme with the following functions :
Fluid Width
3 colums
Widget ready
After many tests I select "Illacrimo" by Design disease .
I had to do some modifications on this theme to be totally satisfied.


I made the following modifications :
I change the left colum to give him fluid width
I change the left "date" colum to include it into the title
Correction of a little bug with WordPress 2.3.x
If you do some corrections or modifications in this theme I would be pleased if you send me a copy of it.




Download