11 Dec


Version Fr.
LiaDash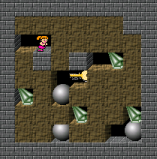 You are Lia (

), the aim in your life is to get all the keys (

) of the level and a certain amount of jewels (

) without being crushed by the boulders (

) and the Jewel. To get the jewels you can eat the ground.
Warning ! Destroy all monsters and crunch under a boulder to cross the uncrossable wall !
How to play …
The arrow keys to move Lia
"F2″ key to start a new game
and you can commit suicide with the "End" key
21 Oct


Version Fr.
This small applet is a "minesweeper" clone, the goal of the game is very easy, you just have to discover and mark all the mines. To do this you have as option left clic which show you the land (you loose of there is a mine) and right clic which mark a mine (if the case is not discovered).
For developpers all source code is avaible here
i have also done a midlet version of this game and I think I am going to propose it to you soon.
PS : My best score is in expert mode 153 sec.