19 Jan
WWW – XWiki version 1.2
Author: rberthou


Version Fr.
Some news of the web
After three "releases candidates" the final version of the excellent XWiki software is avaible to download.
Xwiki is a Wiki Open Source multilingual, entirely written in Java. It offers all the services of a well securisated Wiki and permit an easy developping of the specifique functions (very useful to integrate this in existing applications). This sort of tools permit to develop quickly an entreprise Intranet by adding quite easyly specifique functions.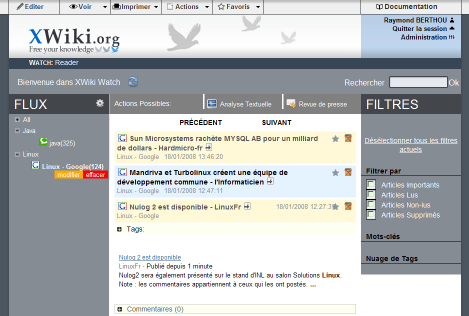 This new version offers better performans, New users, groups and rights management UI (I didn't like the previous one), many pluggins anb many other things to see at this link. ici.
In my opinion I find the first contact very simple and quick. I particulary like the panel interface, the flux reader "Xwiki Watch" which is really very powerful and the exportation in RTF or PDF format.
If you don't already know this tool I invite you to discover it quicky.
Filed under: java, OpenSource, www